How often should I rotate my tires?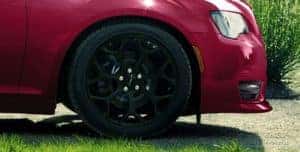 Have you ever thought about how much contact your vehicle makes with the road? At any given moment, it's just four small patches of tire tread that connect your Ram, Chrysler, Dodge, or Jeep vehicle to the pavement, gravel, or dirt. That makes your tires seriously important to your safety.
You can keep your tires in the best shape possible with routine maintenance that includes a tire rotation. But what does it involve, and how often should you rotate your tires according to the maintenance schedule? Here's some advice from your local Dodge dealership serving Corpus Christi, Blake Fulenwider Ram Chrysler Dodge Jeep.
Why a Tire Rotation is Important
Your vehicles front tires and rear tires serve different roles. On front-wheel-drive vehicles like the Chrysler Pacifica and Dodge Grand Caravan and AWD like the Jeep Cherokee, the front tires are responsible for steering and accelerating, as well as 70 percent of the braking. The rear tires trail along and assist with braking primarily. On rear-wheel drive and four-wheel-drive models like the Jeep Wrangler, Ram 1500, and Dodge Durango, the rear wheels primarily drive the vehicle while the front wheels perform most of the braking and steering.
Left unchecked, the front tires and rear tires wear at different rates. To counterbalance the uneven wear that develops, your vehicle's tires should be rotated regularly. This way, your tires will wear evenly in all four positions. The benefit? Tires that offer safer traction, longer-lasting wear, and saving you money on replacement tires.
For vehicles with AWD or 4WD systems, rotating the tires is even more important. Driving with tires that have uneven tread levels can put stress on the drivetrain, creating the potential for a breakdown.
What's Involved with a Tire Rotation?
A tire rotation service is straightforward but incredibly important. Your vehicle is lifted on a vehicle hoist and all four wheels are removed. The front tires and rims are moved to the rear axle and the wheels from the rear axle are mounted on the front. This simple service evens out your tire wear while you continue to drive like you normally would.
How Often to Rotate Tires?
The tire rotation for your car, truck, SUV, or minivan is detailed in the maintenance schedule section of your owner's manual, but according to time or mileage. On most FCA vehicles, a tire rotation is scheduled to be performed during every oil change interval.
FCA vehicles are equipped with an Oil Change Indicator System that estimates oil life based on your vehicle usage. When the oil life monitor indicates that service is due, it's time to book an appointment for an oil change and tire rotation.
If your tire tread is well worn, you may need new tires instead of a tire rotation.  Whether you want to find out the tire rotation cost or would like a competitive quote for new tires, Blake Fulenwider Ram Chrysler Dodge Jeep in Beeville, TX can help. As one of your local Texas Ram dealers, this is where you'll find expert repairs and service along with name brand tires.
Source:
https://www.valvoline.com/recommended-auto-services/tire-rotation-service